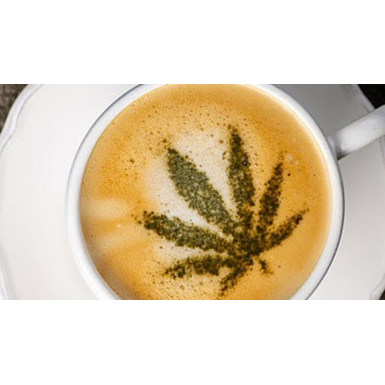 Cannabis-Infused Mocktail Recipes
As the leaves begin to turn from bright green hues to warmer tones of red and orange, many Coloradans will be headed to the mountains to see the aspens signal the true arrival of fall. If you're a fan of all things autumn, this year you might want to add something new to your list of fall traditions. We recommend finding time to practice the Danish tradition of Hygge – a philosophy focused on enjoying the little things in life and finding or creating small moments of coziness in your daily routine.
Some Hygge essentials include warm lighting, cozy sweaters, hot meals with friends, and warm drinks enjoyed during cool weather. Hygge is all about creating a cozy atmosphere and enjoying the experience. What could be a better way to do that than snuggling up under a blanket with a warm drink as you enjoy the changing leaves? This year, we're taking our Hygge to the next level with cannabis-infused mocktails to keep our bodies warm and our hearts full.
1. Glogg (a.k.a. Mulled Wine)
Traditionally a Christmas classic, Glogg is a Hygge essential. This mulled wine is a popular choice for Danes when enjoying the holiday season among friends. If you're ready to kick off the holiday season a little bit early this year, then consider making your own batch of cannabis-infused Glogg—or test out our recipe and prepare to get cozy.
What you'll need:
2 Bottles of non-alcoholic grape juice cocktail
4-6 Cinnamon sticks
3-4 Whole cloves
2 Handfuls of raisins
1 Orange, sliced thin
1/2 to 1 full dropper of your favorite Tonic Drops tincture
How to Make Glogg:
Combine all ingredients except tincture in a large pitcher and allow to sit overnight. This will allow the flavors to infuse into the wine as the carbonation dissipates.
Pour Glogg into a saucepan and warm over medium heat until the Glogg reaches the desired drinking temperature.
Strain out the cinnamon, cloves, raisins, and orange slices and pour into a mug.
Add the desired amount of tincture based on your dosing preferences and enjoy!
2. Pumpkin Spice Latte
Fall brings with it an array of things to be excited about, and for many coffee drinkers, the return of the pumpkin spice latte at cafes around the Mile High is one of those exciting things. For anyone looking for more ways to enjoy all things pumpkin spice, a cannabis-infused pumpkin spice latte might be just the thing. Next time you pick one up, you might consider bringing the latte home to add a bit of tincture. If you're feeling more creative, try our recipe and make your very own!
What you'll need:
1 Cup milk
1 Tablespoon pumpkin spice syrup
1 teaspoon vanilla extract
1 Serving of coffee
Whipped Cream
Pumpkin Spice
1/2 to 1 full dropper of your favorite Tonic Drops tincture
How To Make a Pumpkin Spice Latte:
Combine milk, pumpkin spice syrup, and vanilla into a mason jar and microwave for 1 to 2 minutes. Seal the jar and shake until frothy.
Add the hot milk to your coffee, garnish with whipped cream and pumpkin spice seasoning, and enjoy!
Expert Tip: For extra cannabis infusion, swap vanilla extract for a vanilla-infused tincture.
3. Hot Apple Cider
Perhaps the oldest fall drink is apple cider. Dating all the way back to 1300 B.C., the farmer's market staple has a boozy history and is still a common beverage choice for flannel-wearing adults sitting by the fire. However, just because the classic beverage hasn't changed much since its inception doesn't mean that there isn't room for an update.
What you'll need:
3 Cups apple cider
2 Cinnamon sticks
3 Whole cloves
3 Teaspoons allspice Pinch of freshly ground nutmeg
1/2 to 1 full dropper of your favorite Tonic Drops tincture
How to Make Hot Apple Cider:
Combine all ingredients in a saucepan and warm over medium heat for 5 to 10 minutes
Strain out the cinnamon and cloves, pour into your favorite mug and enjoy!
Blog categories
Subscribe to receive new articles in your inbox