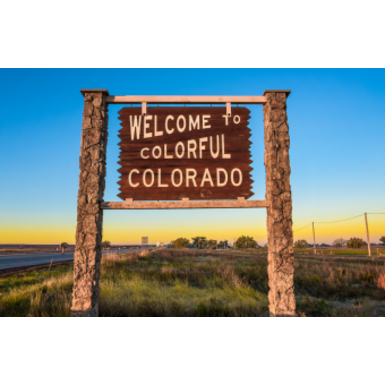 Where Can You Smoke Marijuana In Colorado?
So you're visiting Colorado, bought marijuana legally, and are looking for cannabis-friendly spaces to consume it. Keep reading to learn where you can and can't smoke weed in Colorado, and if you are a local you may learn something new!
Although some businesses had to close due to the pandemic, there is still plenty offering cannabis hospitality to get excited about. And if you are visiting for an extended period, be sure to check the local laws where you are staying as some municipalities have stricter laws than the state.
Lastly, remember that products that contain THC must stay in Colorado or get consumed before you leave. You can't ship or take cannabis to a different state because it is federally illegal and against the law in the states that border Colorado. Learn the facts on buying and using marijuana.
Where you can consume marijuana
1. Personal Private Property
If you're visiting a family member or friend's home and they own the property and say it's ok, you can consume cannabis inside their house or in their backyard. Aren't these types of friends and family awesome?!
2. 420 Friendly Hotels and Campsites
Most hotels, B&Bs, vacation rentals, and campsites do not allow you to smoke cannabis on their property unless they explicitly permit you. Look on their website to see if they say they are "Cannabis-friendly" or "420 friendly" in designated areas. Better yet, call and ask before you book a room.
It's a good idea to inquire because if you are caught smoking or vaping cannabis at a hotel and it's against their policy, you could pay a fine. If you are looking for a more discreet way to consume weed during your hotel stay, try cannabis edibles in 420 friendly areas, privately and safely.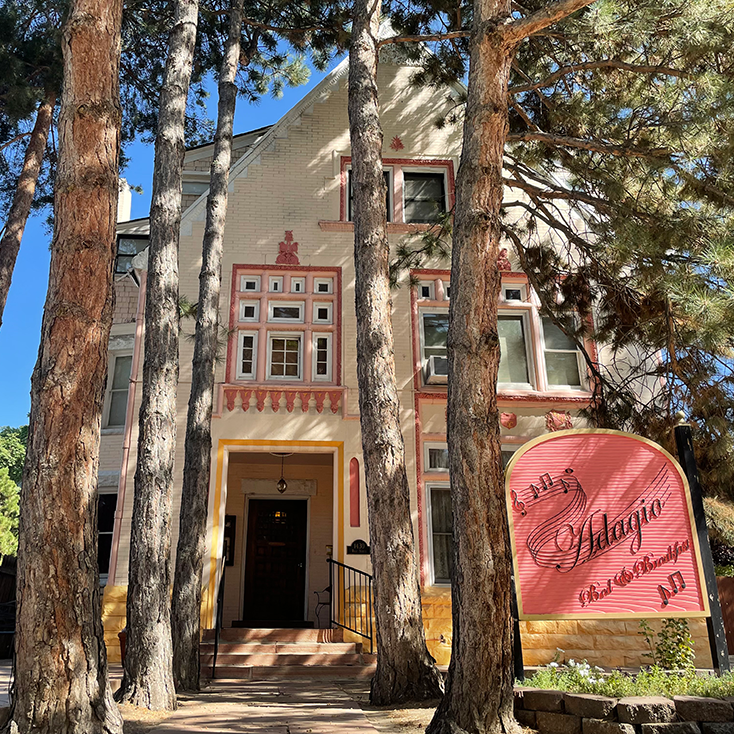 Some current 420-friendly hotels in Colorado include:
Here are a few cannabis-friendly campsites and hot springs for those wanting to enjoy the beautiful Colorado outdoors:
3. Cannabis Tours and Classes
Cannabis tours
If you want the full tourist cannabis experience, book a cannabis tour through Colorado Cannabis Tours with your own designated driver. Private cannabis tours are led by a local cannabis expert with stops including marijuana dispensaries, sight-seeing spots, and marijuana grows. You can even book 420 friendly hotels through Colorado Cannabis Tours or private cannabis-infused dinner parties.
Similarly, City Sessions offers Colorado cannabis tours that are educational and even customized. Some tours are oriented towards investors, newbies, or corporate events. They even have tours for those wanting a 420 friendly scenic drive to mountain towns like Keystone or Aspen.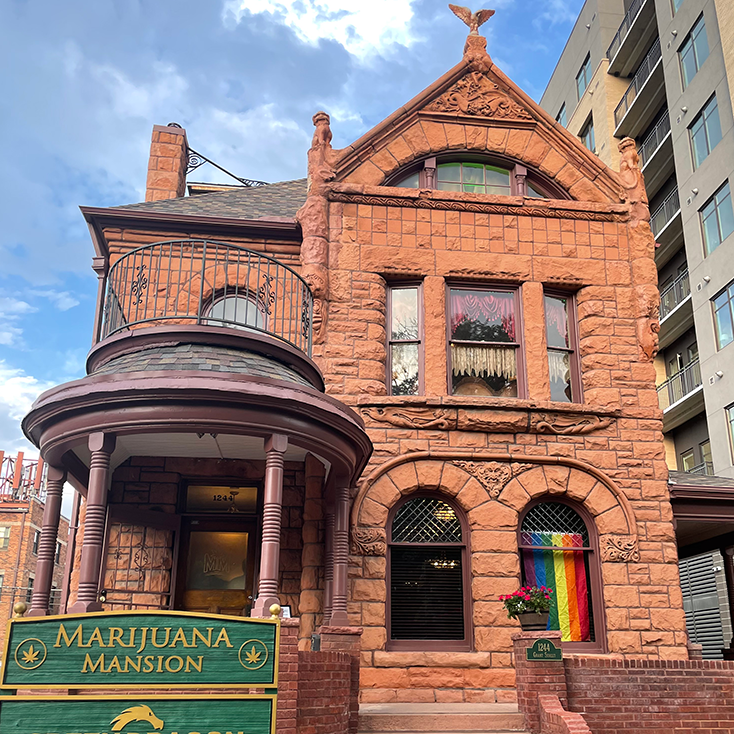 Also, the Marijuana Mansion in Denver offers tours of the Denver historic house turned cannabis art and event space. The house was built in 1889 and played an important role in legalizing marijuana in Colorado in 2012. It hosts a dispensary in the rear of the building and is available for haunted, group, or individual tours, and private events.
Another pot-friendly party bus or limo option for a group includes Mile High Limo Tours with party amenities for a baked experience.
Cannabis art, cooking, and yoga classes
Colorado Cannabis Tours offers cannabis cooking classes for those wanting to learn the basics and best practices. In addition, Puff, Pass, and Paint in Denver offers paint, tye-dye, and pottery classes. They also offer cannabis cooking and cannabis-infused skincare classes. Just be sure to book a spot ahead of time for a creative session in a relaxed atmosphere.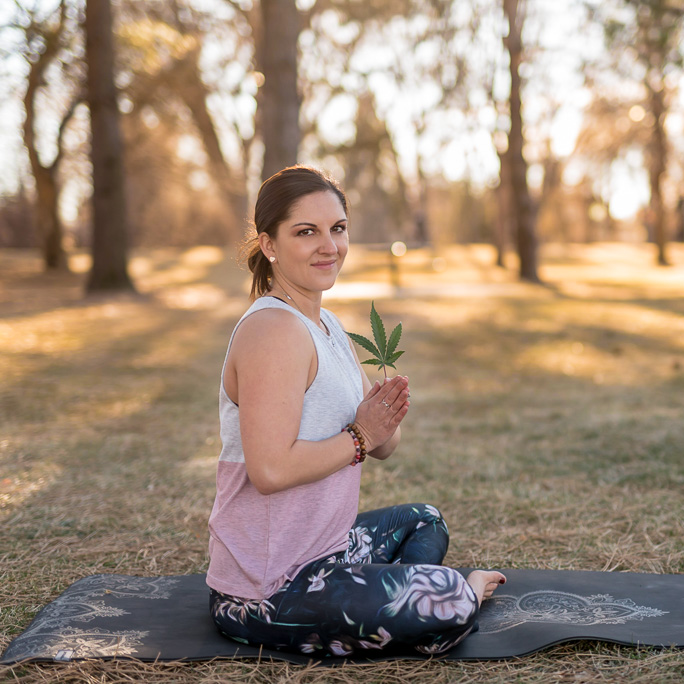 If you're interested in joining the yoga and cannabis community there are several cannabis yoga classes that are offered in Colorado. This includes private in-person or online classes to explore. Most are led by certified yoga instructors who also specialize in cannabis and plant medicine. Check out Blend and Blaze in Denver, Greenlove Denver in Littleton, or Ganjasana in Boulder. You may find that with guidance pairing yoga with cannabis has benefits!
4. Cannabis Social Clubs
Hospitality businesses or social clubs are a fun way to safely consume cannabis in a laid-back social environment. These cannabis social clubs do require a membership fee or purchase during your visit. It's also a good idea to see if you need to make reservations online ahead of your visit. Some like the Tetra lounge offers live music, games, yoga classes, and art to make the experience lit. If you're new to socializing with weed, you may want to understand basic cannabis social etiquette.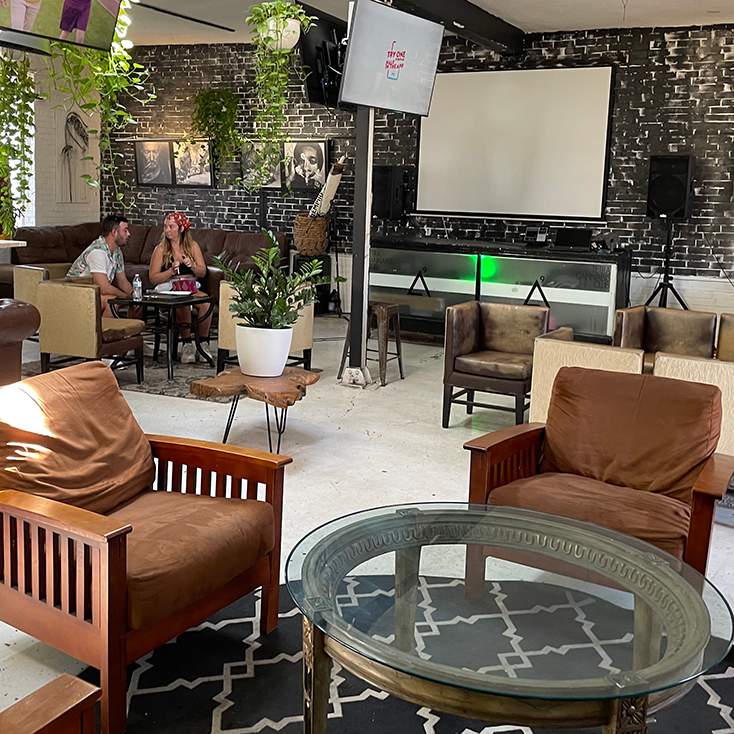 If you're wondering how cannabis social clubs are possible you should know that in early 2020, HB1230 took effect in Colorado. This measure allows dispensaries, restaurants, hotels, mobile lounges, and other businesses to apply for social pot-use permits. In cities that have opted into this measure, license holders can allow cannabis consumption on their premises but with rules. So it's safe to say Colorado will likely see more cannabis social clubs, marijuana bars and hospitality businesses pop up soon.
Some active Colorado cannabis social clubs to check out include:
Where you can't consume marijuana
Now that you know where you can smoke weed in Colorado, here is a quick list of where not to light up.
1. Public places
Here's your friendly reminder that Colorado law forbids you to smoke marijuana in public spaces without social pot-use permits. This includes parks, streets, and concert venues and applies to consuming cannabis edibles in public. Lighting up in public could result in a ticket and fine so proceed at your own risk or better yet, just avoid the hassle.
2. Cars
If you're stoned and driving you could get a DUI and your ability to drive will likely be impaired. If you are transporting cannabis in the car, keep it sealed and stored away out of sight, like in the trunk. Smoking weed in rental cars or normal rideshares is usually always prohibited.
3. Federal lands
Federal lands include national parks and ski resorts. It's illegal to use cannabis on federal lands or to bring it to these places because Colorado state laws do not apply. It's also likely against the park or resort's policy, so enjoy cannabis in privacy before or after you visit these places.
4. Non-cannabis friendly hotels
As we mentioned, most hotels, B&Bs, and rental properties do not allow you to consume marijuana unless they explicitly permit you. If you're unsure, just ask.
Visit LivWell
Now you know where you can legally and safely consume cannabis in Colorado while you enjoy the activities and culture our state has to offer. Before your adventures, be sure to visit any of our locations across the state and browse our menu online to order ahead. Our selection of cannabis products is sure to help make your Colorado experience wonderful!
---
Please consume responsibly. This product may cause impairment and may be habit forming. There may be health risks associated with consumption of this product. State laws impact what dispensaries can and can't sell to recreational customers and medical marijuana patients. Not every type of product, consumption method, dosage form, or potency mentioned on this blog will be permitted in all locations.
Blog categories
Subscribe to receive new articles in your inbox