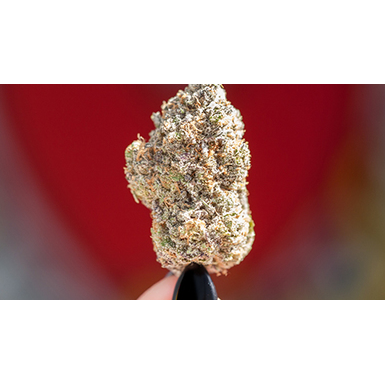 Dear Budtender: Cannabis Strain Guide for Your Next Date
Dear Budtender: I want to incorporate cannabis into my date night plans, but I want to choose a strain that will match the activity. Like if we're going hiking. What do you recommend?
From, Dating in Denver

Hi there, Dating in Denver! We often get questions about pairing strains with certain activities or social situations, as you want to get the right combination of flavor, aroma, and effects. Here are a few of our top recommendations for a variety of date night adventures.
Date Night Cannabis Strain Recommendations
For the Great Outdoors: Lemon OG Haze
If you and your plus one are meeting up with mother nature for your next date, Lemon OG Haze is a great option. Since this sativa-heavy strain has high levels of the terpene limonene, you can expect a bright, lemon flavor. Lemon OG Haze is known for being an invigorating cultivar, keeping you in the moment and ready to enjoy each other's company.
For Netflix & Chill: Humdinger
Sometimes kicking back with a good movie is the way to go. If that's what you're in the mood for, Humdinger is a great choice. With bright green trichome-laden buds and rich aromas of citrus and coffee, this indica-dominant strain's aromas and flavors pair well with a mellow feeling of relaxation to help savor the moment. It's perfect for cuddling with your significant other while watching a romantic movie.
For Dinner Dates: Citral Flo
When we're getting ready for a nice dinner, being conversational is key—but we also want the food to taste bomb too, right? Citral Flo is a great option for these occasions. An uplifting and lemony flavor, Citral Flo is known for being a great strain for nearly any time of day. When a dinner date is on the menu, this one is great for stimulating conversation without taking your focus too far away from that delicious plate in front of you.
For Creative Projects: Golden Goat
Artistic projects can make for great dates, and for many people, cannabis can enhance the experience even more. We think Golden Goat is the perfect choice for this occasion. With an eclectic combination of sweet, sour, and spicy aromas, this sativa-dominant strain lends itself to artsy endeavors! Whether you're looking to paint on canvas or mess around with some watercolors, your vivid imagination will pair well with Golden Goat, making it an even more satisfying creative experience for the both of you.
Your Date Night Cannabis Strain Guide
Head to your local dispensary to try these and other strains for your date night.
---
Please consume responsibly. This product may cause impairment and may be habit forming. There may be health risks associated with consumption of this product. State laws impact what dispensaries can and can't sell to recreational customers and medical marijuana patients. Not every type of product, consumption method, dosage form, or potency mentioned on this blog will be permitted in all locations.
Related posts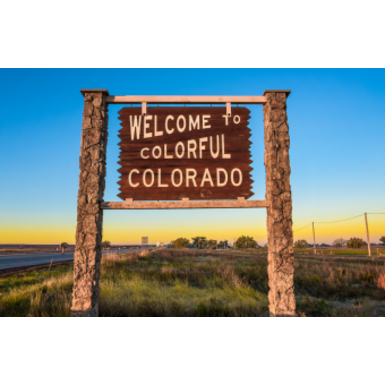 So you're visiting Colorado, bought marijuana legally, and are looking for cannabis-friendly spaces to consume it. Keep reading to learn where you can and can't smoke weed in Colorado, and if you are a local you may learn something new!
Although some businesses had to close due to the pandemic, there is still plenty offering cannabis hospitality to get excited about. And if you are visiting for an extended period, be sure to check the local laws where you are staying as some municipalities have stricter laws than the state.
Lastly, remember that products that contain THC must stay in Colorado or get consumed before you leave. You can't ship or take cannabis to a different state because it is federally illegal and against the law in the states that border Colorado. Learn the facts on buying and using marijuana.
Where you can consume marijuana
1. Personal Private Property
If you're visiting a family member or friend's home and they own the property and say it's ok, you can consume cannabis inside their house or in their backyard. Aren't these types of friends and family awesome?!
2. 420 Friendly Hotels and Campsites
Most hotels, B&Bs, vacation rentals, and campsites do not allow you to smoke cannabis on their property unless they explicitly permit you. Look on their website to see if they say they are "Cannabis-friendly" or "420 friendly" in designated areas. Better yet, call and ask before you book a room.
It's a good idea to inquire because if you are caught smoking or vaping cannabis at a hotel and it's against their policy, you could pay a fine. If you are looking for a more discreet way to consume weed during your hotel stay, try cannabis edibles in 420 friendly areas, privately and safely.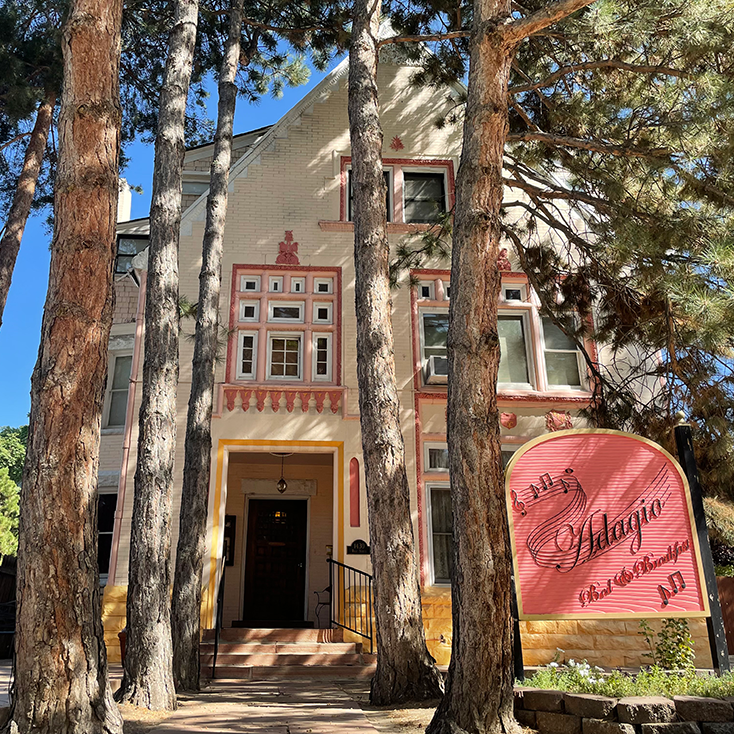 Some current 420-friendly hotels in Colorado include:
Here are a few cannabis-friendly campsites and hot springs for those wanting to enjoy the beautiful Colorado outdoors:
3. Cannabis Tours and Classes
Cannabis tours
If you want the full tourist cannabis experience, book a cannabis tour through Colorado Cannabis Tours with your own designated driver. Private cannabis tours are led by a local cannabis expert with stops including marijuana dispensaries, sight-seeing spots, and marijuana grows. You can even book 420 friendly hotels through Colorado Cannabis Tours or private cannabis-infused dinner parties.
Similarly, City Sessions offers Colorado cannabis tours that are educational and even customized. Some tours are oriented towards investors, newbies, or corporate events. They even have tours for those wanting a 420 friendly scenic drive to mountain towns like Keystone or Aspen.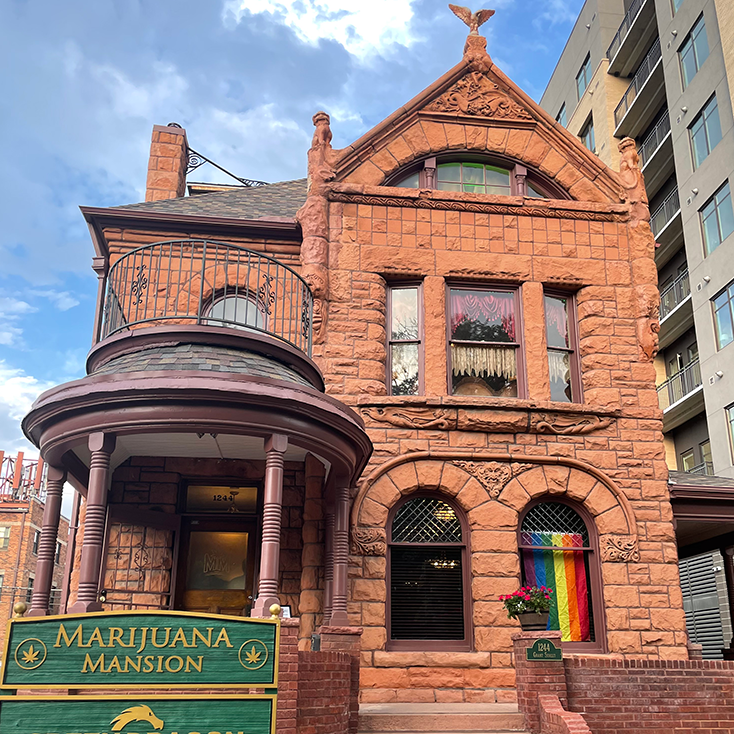 Also, the Marijuana Mansion in Denver offers tours of the Denver historic house turned cannabis art and event space. The house was built in 1889 and played an important role in legalizing marijuana in Colorado in 2012. It hosts a dispensary in the rear of the building and is available for haunted, group, or individual tours, and private events.
Another pot-friendly party bus or limo option for a group includes Mile High Limo Tours with party amenities for a baked experience.
Cannabis art, cooking, and yoga classes
Colorado Cannabis Tours offers cannabis cooking classes for those wanting to learn the basics and best practices. In addition, Puff, Pass, and Paint in Denver offers paint, tye-dye, and pottery classes. They also offer cannabis cooking and cannabis-infused skincare classes. Just be sure to book a spot ahead of time for a creative session in a relaxed atmosphere.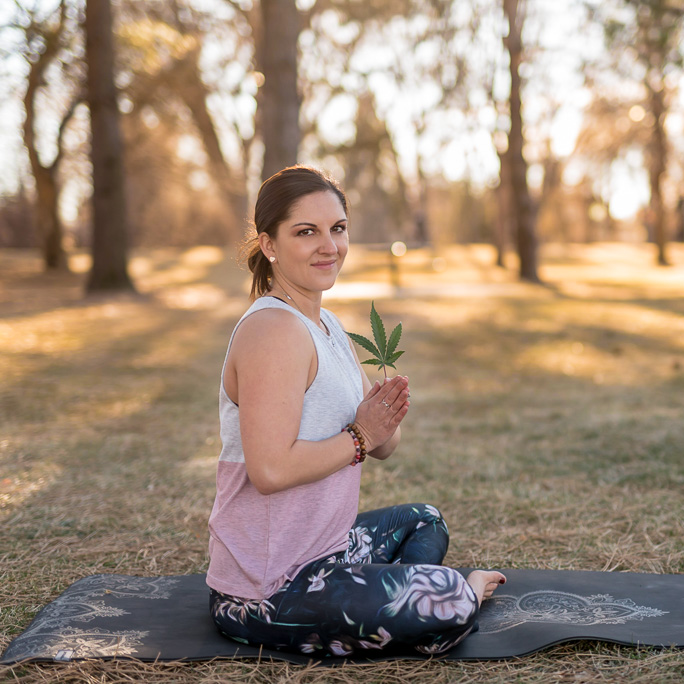 If you're interested in joining the yoga and cannabis community there are several cannabis yoga classes that are offered in Colorado. This includes private in-person or online classes to explore. Most are led by certified yoga instructors who also specialize in cannabis and plant medicine. Check out Blend and Blaze in Denver, Greenlove Denver in Littleton, or Ganjasana in Boulder. You may find that with guidance pairing yoga with cannabis has benefits!
4. Cannabis Social Clubs
Hospitality businesses or social clubs are a fun way to safely consume cannabis in a laid-back social environment. These cannabis social clubs do require a membership fee or purchase during your visit. It's also a good idea to see if you need to make reservations online ahead of your visit. Some like the Tetra lounge offers live music, games, yoga classes, and art to make the experience lit. If you're new to socializing with weed, you may want to understand basic cannabis social etiquette.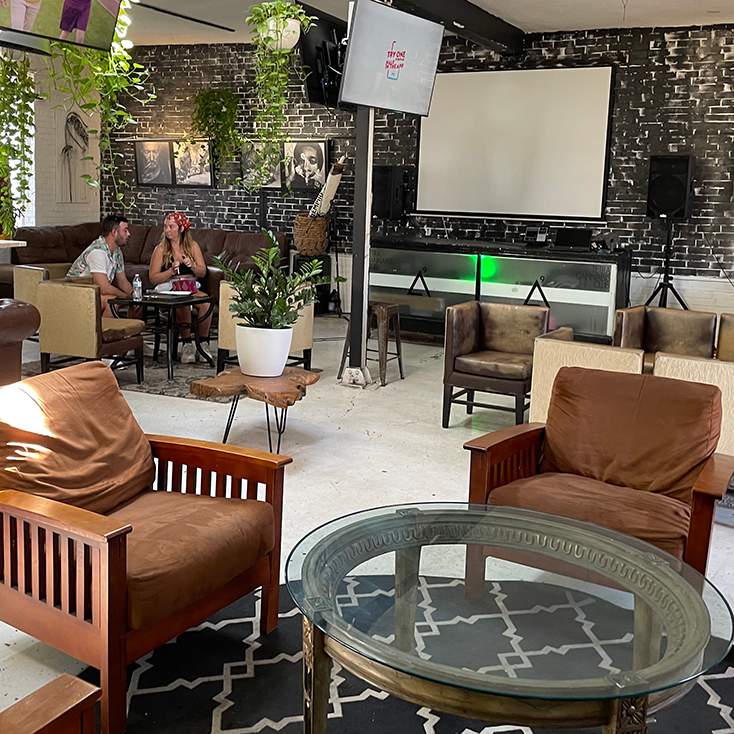 If you're wondering how cannabis social clubs are possible you should know that in early 2020, HB1230 took effect in Colorado. This measure allows dispensaries, restaurants, hotels, mobile lounges, and other businesses to apply for social pot-use permits. In cities that have opted into this measure, license holders can allow cannabis consumption on their premises but with rules. So it's safe to say Colorado will likely see more cannabis social clubs, marijuana bars and hospitality businesses pop up soon.
Some active Colorado cannabis social clubs to check out include:
Where you can't consume marijuana
Now that you know where you can smoke weed in Colorado, here is a quick list of where not to light up.
1. Public places
Here's your friendly reminder that Colorado law forbids you to smoke marijuana in public spaces without social pot-use permits. This includes parks, streets, and concert venues and applies to consuming cannabis edibles in public. Lighting up in public could result in a ticket and fine so proceed at your own risk or better yet, just avoid the hassle.
2. Cars
If you're stoned and driving you could get a DUI and your ability to drive will likely be impaired. If you are transporting cannabis in the car, keep it sealed and stored away out of sight, like in the trunk. Smoking weed in rental cars or normal rideshares is usually always prohibited.
3. Federal lands
Federal lands include national parks and ski resorts. It's illegal to use cannabis on federal lands or to bring it to these places because Colorado state laws do not apply. It's also likely against the park or resort's policy, so enjoy cannabis in privacy before or after you visit these places.
4. Non-cannabis friendly hotels
As we mentioned, most hotels, B&Bs, and rental properties do not allow you to consume marijuana unless they explicitly permit you. If you're unsure, just ask.
Visit LivWell
Now you know where you can legally and safely consume cannabis in Colorado while you enjoy the activities and culture our state has to offer. Before your adventures, be sure to visit any of our locations across the state and browse our menu online to order ahead. Our selection of cannabis products is sure to help make your Colorado experience wonderful!
---
Please consume responsibly. This product may cause impairment and may be habit forming. There may be health risks associated with consumption of this product. State laws impact what dispensaries can and can't sell to recreational customers and medical marijuana patients. Not every type of product, consumption method, dosage form, or potency mentioned on this blog will be permitted in all locations.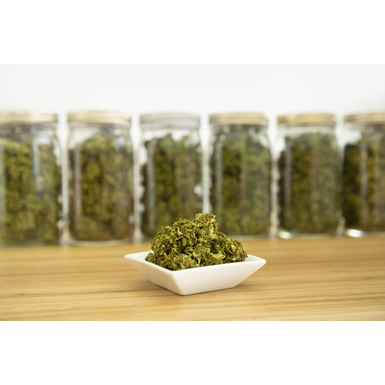 Michigan residents were thrilled when recreational marijuana was legalized in the state, and naturally, it also drew the attention and excitement of some of our neighbors who are interested in experiencing marijuana but can't get it at home. This interest grew into a cannabis tourism industry in Michigan—one you can benefit from as long as you know what you're allowed to do and what you aren't.
Buying Marijuana in Michigan
So you're headed to the Mitten, and you're wondering if you can buy marijuana as an out-of-state visitor. The short answer? Yes, of course. The long answer? Yes, of course—just take the time to learn the rules of the state before you get in the car or board the plane. It will make your experience so much easier, faster, and more pleasant, allowing you to get your green and get back to your vacation. If you're considering a trip here, we conveniently have all the answers to your Michigan cannabis tourism questions right here:
Can I Buy Marijuana in Michigan if I'm From Out of State?
Yes, out-of-state visitors can buy marijuana in Michigan as long as you're 21 or older, and you have a valid, state-issued photo ID. Michigan doesn't differentiate between residents and non-residents, but if you're traveling from out of state to Michigan, just make sure you finish consuming your cannabis (or dispose of your leftovers) before you travel home. It's illegal to carry marijuana across state lines—so make sure you get rid of it.
Where Can I Buy Recreational Marijuana in Michigan?
Recreational marijuana can be purchased throughout Michigan in licensed retail locations. While you can do a quick Google search to find a dispensary near where you're staying, you can also visit the state registry to see all licensed retailers in Michigan. With more and more dispensaries opening up throughout the Mitten State, you'll likely have no trouble finding a dispensary within easy driving distance if you're outside of a city, and you'll have a plethora of options within a city.
How Much Cannabis Can I Buy in Michigan?
In Michigan, the cannabis purchase limits allow you to purchase up to 2.5 ounces of marijuana at time, including 15 grams or less of concentrate. If you prefer edibles and you're trying to figure out how many you're allowed to buy while you're here, we'll make it easy for you—Michigan counts 16 ounces of edibles as one ounce of marijuana. Residents can also possess up to 10 ounces in their home and grow up to 12 plants for their own personal use, provided the plants are hidden from public view.
If you're buying marijuana in Michigan, don't let yourself be tempted to buy too much. Because you can't take it across state lines, any extra cannabis is just going to get thrown out—and no one wants to waste marijuana. Besides, you can always head back to the dispensary if you need more.
What Forms of Payment are Accepted at Dispensaries in Michigan?
The safest way to ensure you are able to purchase your marijuana hassle-free is to bring cash along with you. That said, most dispensaries have an ATM inside, and some dispensaries allow debit card purchases with additional fees applied.
What Type of ID Do I Need to Show at a Dispensary in Michigan?
Michigan dispensaries require either a valid state ID or a driver's license. Your ID needs to show that you are 21 or older and legally able to purchase cannabis in the state. If you don't have a valid ID, or you forgot it, you won't even be allowed inside, so be sure you tuck it in your wallet or pocket before you head to the dispensary.
Can I Order Cannabis for Delivery in Michigan?
As of January 2023, no. While medical marijuana dispensaries have petitioned for approval from the Marijuana Regulatory Agency, home delivery is still not allowed. Recreational marijuana would require its own process, petitions, and final approvals.
If you're looking for the next best option, most dispensaries offer online shopping. You make your product selections, set a pick up time, and drive over and pay for your purchase. Some budtenders will even bring it right out to you.
Cannabis Tourism in Michigan
Michigan dispensaries welcome you as long as you meet the age requirements and have a valid ID. Once you've made your purchase, you can enjoy your marijuana in private locations or in specially designated marijuana consumption spots. As long as you know the rules and follow them, you're sure to have a good time with plenty of cannabis to enjoy.
---
Please consume responsibly. This product may cause impairment and may be habit forming. There may be health risks associated with consumption of this product. State laws impact what dispensaries can and can't sell to recreational customers and medical marijuana patients. Not every type of product, consumption method, dosage form, or potency mentioned on this blog will be permitted in all locations.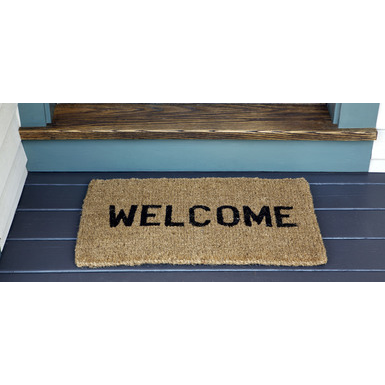 Cannabis consumption has always had a social element to it, whether it was used for religious practices or community interaction. While cannabis has grown in popularity, certain unspoken rules have developed with it. As marijuana continues to be legalized around the country, and more cannabis enthusiasts are able to explore their love of bud, it's important to be aware of these rules and follow a certain cannabis etiquette.
What is Cannabis Etiquette?
Marijuana etiquette refers to the rules of polite cannabis society that we should all follow when consuming marijuana with friends or around others. There are some nuances to these rules, but in general, be respectful to other cannabis enthusiasts around you, don't be stingy with your supply, and don't push anyone into consuming green that they don't want. Let's dive into the details of…
Marijuana Etiquette 101
One of the best things about the cannabis community is that it is generally full of likable people who enjoy partaking together. To honor this tradition, and to ensure people invite you back, follow these smoke sesh rules:
1. Pick the Right Location
Whether you are at a friend's house or a party, choosing the right spot is key to being respectful and not bothering others. If you are unsure of how comfortable people around you are with cannabis, try to find a private spot. Head to the backyard or another room so you don't offend anyone with the smoke and odor.

You also need to make sure that you find a place where it is legal to consume cannabis. In Colorado, you can legally consume cannabis on private property. It's also legal to consume cannabis in the designated consumption area at a retail marijuana hospitality business.

Make sure that the spot is safe and calm. There's nothing worse than getting too intoxicated in a place you don't feel safe. Make sure you feel comfortable with the group of people you are with to ensure you have a pleasant experience.
2. Be Ready to Share
If you're invited to a gathering that's specifically cannabis-focused with adults 21 or older, it's nice to bring some of your own favorite products along. This may feel like a simple courtesy to you (and a reason to enjoy your favorite flower from your latest dispensary visit), but it will mean a lot to your host and the other people joining you.

If you're joining a group of cannabis enthusiasts but don't have any green to bring along with you, offer a little bit of money to chip in for the cost of the cannabis that is provided.
3. Keep Accessories Clean
This one is probably obvious, but you should never show up with unclean tools. No one wants to share a dubious-stained water pipe or a resin-crusted hand pipe. Give anything you plan to share with others a good scrub before you head out.
The less obvious (to some people) part of this rule is that you should avoid sharing if you aren't feeling great. You might think it's just allergies or something simple, but the last thing you want to be is the person that got everyone sick after the get together.
4. Be Transparent
Always be transparent and honest about your cannabis. Know the strain and the THC and CBD levels, and be able to answer questions about your product if anyone interested in partaking asks. This is true whether you're sharing flower, concentrates, edibles, or any other product. This universal rule is key to everyone having a good time at any party—regardless of whether cannabis is served or not.
5. Pass to the Left
There are a lot of theories as to where the idea of passing to the left came from. In general, when enjoying something with a group of people, be it cannabis or a holiday meal, you pass everything in one direction—so it makes sense that cannabis follows the same principles. Still, some cannabis enthusiasts insist the "pass to the left" adage is directly related to Rastafarian rituals that see the chalice—or pipe—passed to the left. Others swear cannabis is passed to the left because that was an old tradition among sailors to pass the port to the left.

Whatever the origin of the theory, follow the puff-puff-pass-to-the-left rule—and be sure to ash before you pass if enjoying a "joint" or pre-roll.
6. Don't Blow Smoke in Someone's Face
Hopefully, you're not learning this smoking etiquette rule for the first time here. You should never blow smoke in someone's face, whether it's a joke or otherwise.
7. No Peer Pressure
Just because you're at a cannabis-friendly gathering, doesn't mean that everyone there is interested in partaking. Before consuming your cannabis (especially if using a pipe or vaporizer), check with everyone to make sure they don't mind if you consume. If they do mind, pop into a different room or outside.
Also, if you're consuming cannabis and try to pass to the next person, only offer once. If they say "no," move on to the next person. It's easy to be a considerate cannabis enthusiast.
8. Chip In
We mentioned this above, but it's always nice to chip in a few bucks if you don't have any cannabis to contribute. Some hosts also appreciate it when you bring snacks or beverages. Chipping in isn't just a polite kindness, it's a show of respect to your host.
9. Know Your Limit
Be aware of how much you've indulged versus your typical tolerance levels—especially if you're trying a new marijuana product. If you're someone who only smokes flower, you may be surprised at how quickly you can be intoxicated with a concentrate. If you've already consumed an edible, wait until you feel the effects before you consume any more. These tips will help you enjoy your time without embarrassing yourself.
10. Keep It Positive
Come into the circle with a friendly attitude and keep it that way. Everyone wants to feel welcome and relaxed while they enjoy cannabis, so make sure to stay on positive conversation topics. Bringing the mood down can make people feel uneasy when they are intoxicated, and they might not want to partake with you again. So keep it positive and help everyone enjoy the experience!
Answering Cannabis Etiquette FAQs
Following good cannabis etiquette is easy—especially when you know the answers to questions like these:

Do you pass a pre-roll to the left or right?
The general rule of thumb for marijuana smoking etiquette is to pass to the left—just make sure you ash first.

What should i bring to a smoke session?
There are a variety of ways you can contribute to a cannabis gathering. Of course, you can bring cannabis, but you can also bring food, beverages, music to play, backyard games, and more. Think of it like a picnic or barbeque—with cannabis—and contribute in ways that make sense with your friends and/or family.

How many times should i hit a pre-roll before passing it?
Ever hear the phrase "puff-puff-pass"? You should consume no more than twice from a pre-roll before passing it to the left.
Understanding Cannabis Etiquette
If you are ever unsure about anything, don't be afraid to ask. The cannabis community is usually filled with compassionate folks who want to help others learn. People will appreciate your question because it shows you care and are making an effort to be a polite and courteous cannabis consumer.
Of course, if you're looking for something to share at your next cannabis outing with friends, be sure to head over to one of our marijuana dispensaries. Our budtenders are experts at helping you find the right product for you.
---
Use of Marijuana Concentrate may lead to: Psychotic symptoms and/or Psychotic disorder (delusions, hallucinations, or difficulty distinguishing reality); Mental Health Symptoms/Problems; Cannabis Hyperemesis Syndrome (CHS) (uncontrolled and repetitive vomiting); Cannabis use disorder/dependence, including physical and psychological dependence. Please consume responsibly. This product may cause impairment and may be habit forming. There may be health risks associated with consumption of this product. State laws impact what dispensaries can and can't sell to recreational customers and medical marijuana patients. Not every type of product, consumption method, dosage form, or potency mentioned on this blog will be permitted in all locations.