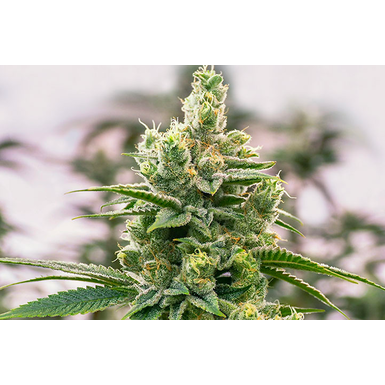 Ultimate Guide to the Anatomy of the Marijuana Plant
Although you may be familiar with the marijuana buds that we covet, many people have never seen a marijuana plant, let alone know about its anatomy. The cannabis plant is made up of many different structures and this post is meant to provide a brief introduction to the main parts of this amazing plant.
Flower
Cannabis flowers (a.k.a. buds) are the most well-known part of the cannabis plant. The cannabis plants will either have female or male flowers, and the flowering process is how a grower discerns whether the plant is female or male. A flowering female cannabis plant will develop a cola and grow buds. It will also produce cannabis seeds if it is fertilized by a male marijuana plant. The flowering male plant does not have buds, but develops small pollen sacks at the base of its leaves. Pollinated plants are far less rich in cannabinoids (like THC) so the buds you purchase and enjoy are always unpollinated seedless females.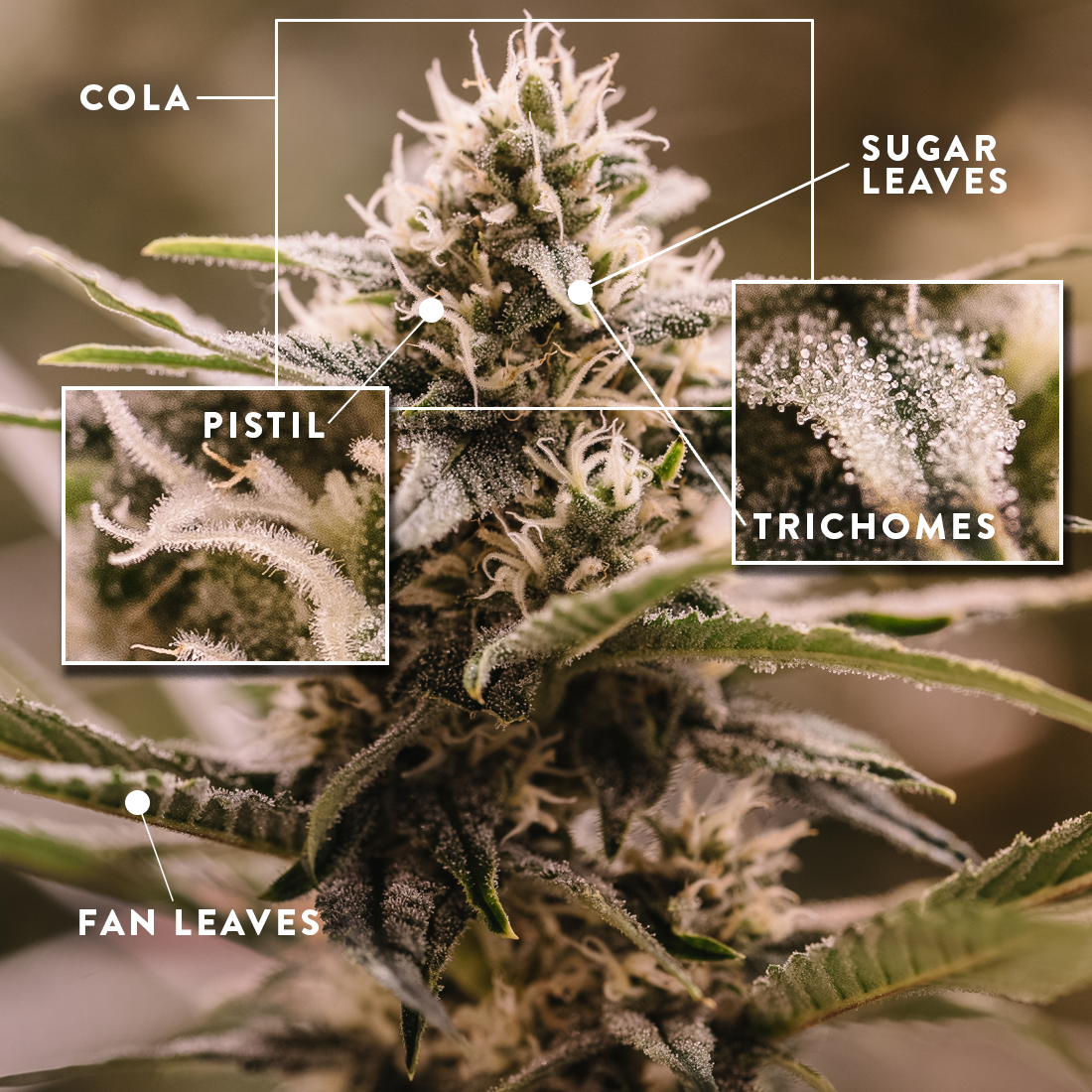 Fan Leaves
Fan leaves are the large, protruding leaves that appear up and down the plant. Each leaf usually contains five individual leaves, but sometimes have more. Photosynthesis is the main function of these striking leaves, and they don't produce high levels of cannabinoids like buds do. But even though they aren't smoked, they are famous for being an iconic symbol of the cannabis plant in marijuana culture.
Cola
The cola refers to the part of the female cannabis plant where the buds come together at the tip of the stem. The quality and size of the cola can be increased during the growing process with plant training, which means physically manipulating the plant so it grows more bud sites, which increases yields. The cola produces the largest, densest buds with the highest potency. When you buy top-shelf flower, you usually get buds from the cola that have been hand-trimmed.
Bract and Calyx
Often hidden under the small leaves on the cola, are tear-shaped nodules that form the bract. The bract encapsules the cannabis female plant reproductive parts and is covered in resin glands that contain the highest concentration of cannabinoids. The calyx is a translucent layer that covers the female plant's ovule enclosed by the bract and is not visible to the naked eye.
Sugar Leaves
Sugar leaves are the small leaves that grow out of the buds. They are often hidden, with only their tips peeking through. They are usually covered in trichomes, which give them the appearance of being dusted with sugar. Because they carry cannabinoid-rich trichomes, they can be used to make concentrates and extracts.
Trichomes
Trichomes are a tiny but essential part of the cannabis flower. These resin glands coat the flower and look like translucent crystal-like globes. Trichomes are rich in cannabinoids and terpenes, which are responsible for the euphoric and therapeutic effects of the plant.
Pistil
Pistils look like tiny hairs that grow out of the sides of the flower. They start out white but turn to red, orange, and brown. Only female cannabis plants have pistils, and they function to capture pollen sacs from male marijuana plants.
---
Please consume responsibly. This product may cause impairment and may be habit forming. There may be health risks associated with consumption of this product. State laws impact what dispensaries can and can't sell to recreational customers and medical marijuana patients. Not every type of product, consumption method, dosage form, or potency mentioned on this blog will be permitted in all locations.
Related posts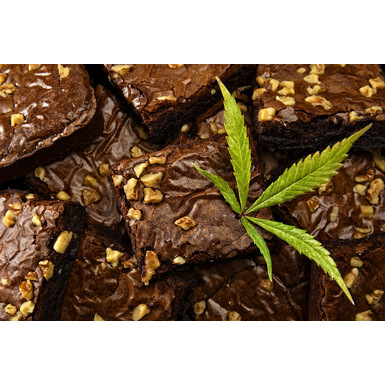 Outside of terpene-rich cannabis products like top-shelf flower and high-quality concentrates, edibles are probably the most delicious cannabis products stocking our shelves. They're the perfect option for cannabis enthusiasts who prefer not to inhale their product or who simply want to infuse their favorite treat or candy with cannabis extract.
What are Edibles?
Edibles are cannabis-infused food products. Depending on how they're made, they can contain THC isolate or a variety of cannabinoids and terpenes. This is why some edibles have a distinct marijuana flavor while others have no flavor indicators that they have cannabis in them.
If you view our menu, you'll notice there are all different types of edibles available for purchase, including brownies, cookies, candies, chocolates, drinks, biscuits and even popcorn. You can also purchase ingredients like cannabutter and cannaoil to make your own favorite recipe using canna-ingredients instead of grocery store-bought options.
What are the Different Types of Edibles?
We've mentioned a few different types of edibles already, but there are a few categories of edibles that you're most likely to find at your favorite dispensary. They include:


Cannabis Gummies
Move over Haribo, there's a new gummy in town. Cannabis gummies can take the form of familiar gummy treats like peach rings and gummy bears, or just be a small square of chewy, sweet-tasting gummy infused with THC. Pectin or gelatin gummies come in pretty much every flavor you can think of, including sweet and sour options.
Cannabis Lozenges & Hard Candies
Cannabis hard candies and lozenges can be absorbed two ways: through the mouth and through digestion once the candy is swallowed. This means that it's possible that sweet confection can create intoxicating effects faster than edibles that are only digested. Like all other categories of edibles, there are countless flavors to choose from when indulging in cannacandy.
Cannabis Baked Goods, Cookies & Brownies
When someone says the word "edible," it's hard not to immediately think of cannabis brownies. They're one of the most popular baked goods on the market, but there are many more options available, ranging from sweet to savory. You can get anything from muffins and cupcakes to buttery biscuits and crispy crackers.
Cannabis Chocolate
For those who can't get enough of cocoa, chocolate infused with cannabis can satisfy any craving while also offering the intoxicating effects of cannabis. While chocolate edibles can be found in both milk chocolate and dark chocolate options, there are also gourmet options like truffles and chocolate strawberries.
Cannabis Drinks
Name your favorite type of drink. Tea? There are tea edibles. Soda? There are soda edibles. Cannabis coffee? You guessed it, there's a cannadrink for that. If you can drink it, there's probably a cannabis-infused version of it. For any beverages you love that you can't find as an edible, you can always purchase a tincture and add it to your beverage, instantly making it an edible.
How Do Cannabis Edibles Work?
Cannabis edibles work by being absorbed through the mouth or stomach. The cannabinoid or cannabinoids and terpenes are absorbed through the thin skin of your mouth and under your tongue or via digestion. Then, they enter the bloodstream and start affecting the receptors in your endocannabinoid system the same way as any other cannabis product.
So what do edibles do to you? Well, when it comes to edibles that have both cannabinoids and terpenes, you may experience the entourage effect. This is the idea that cannabinoids and terpenes all work together (not just THC alone) to create the intoxicating feelings that come with cannabis consumption. While edibles with only THC isolate in them still create a psychoactive effect, there is no entourage effect because there's only one cannabinoid that's activated in the product.
How to Make Cannabis Edibles
You can make your own cannabis at home by using cannabis-infused ingredients. The most common two ingredients are cannabutter and cannaoil—both of which can be purchased from a dispensary. This eliminates the messy and aromatic process of creating your own cannabutter or cannaoil and allows you to get right to making your favorite recipe.
Truly, your cannabis edibles are only limited by your imagination. There are people who make brownies and cookies, but you can also whip up your own cannabis barbeque sauce, toss your favorite pasta in garlic and cannabutter, or even spread a pad of cannabutter on a slice of fresh-from-the-oven bread.
If you're interested in making your own edibles, be sure to pick up some cannabutter at one of our locations. It works great for recipes like lemon bars and Mexican street corn.
Answering FAQs About Edibles
When it comes to frequently asked questions about edibles, these are the ones we get the most from our customers:
What is the difference between CBD and THC edibles?
The difference between THC and CBD edibles is that THC edibles will cause psychoactive effects and CBD edibles will not. THC, or tetrahydrocannabinol, is the cannabinoid responsible for the intoxicating experiences cannabis consumers enjoy. To purchase edibles with THC, you need to visit one of our dispensaries. CBD, or cannabidiol, is a cannabinoid with no psychoactive effects. Instead, it's being studied for its potential therapeutic effects. It is possible to purchase CBD edibles outside of a dispensary, but we don't recommend it. The CBD market is unregulated, so you don't really know the quality of the product that you're getting.
What edibles are the easiest to make?
The easiest edibles to make are edibles made with our cannabutter. You simply substitute our cannabutter for the butter in a normal recipe, and voila, you now have edibles. Easy peasy.
How long does it take edibles to work?
The time it takes edibles to work depends entirely on the edible. For example, if you suck on a cannabis lozenge, it's possible you'll feel the effects within 30 minutes. This is because the cannabinoids are absorbed through the thin tissues of the mouth. This allows them to hit the bloodstream faster than edibles that are eaten and have to be digested in order to work. In general, we recommend giving any edible a full hour to feel the effects before you eat more.
Purchasing Edibles and Cannabutter
Edibles are a great option for people that want to microdose throughout the day, wind down after work, or just relax and enjoy the cannabis experience. While you can purchase your favorite treat from our dispensary, you can also purchase cannabutter and make a traditional recipe with a twist. Just make sure you clearly label your leftovers!
---
Please consume responsibly. This product may cause impairment and may be habit forming. There may be health risks associated with consumption of this product. State laws impact what dispensaries can and can't sell to recreational customers and medical marijuana patients. Not every type of product, consumption method, dosage form, or potency mentioned on this blog will be permitted in all locations.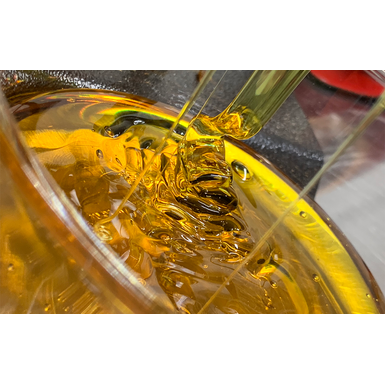 Concentrates have been around for thousands of years and consumed around the world. It's fair to say, though, that our technology for making these unique marijuana products has improved since then. Today, we're able to create concentrates that include every compound we love in cannabis, and we're also able to create products that isolate just a single cannabinoid like THC. So let's dive a little deeper into the process of creating concentrates, the types of concentrates that exist, how to actually consume them, and more.
What Are Cannabis Concentrates?
Cannabis concentrates are marijuana products made from one of the best parts of the plant—trichomes. Those sticky, crystalline hairs you see on premium flower are actually tiny glands that contain cannabinoids, terpenes, and flavonoids. When you collect trichomes, you can distill their contents or you can use them whole, but both methods create some of the most potent, flavorful, and aromatic products on the market.
Marijuana concentrates are made one of two ways:


Solvent Concentrates: Solvent concentrates are products made with solvents, such as butane, CO2, alcohol, or ethanol. These solvents are forced through the cannabis in a closed loop system to extract the terpenes, cannabinoids, and flavonoids within the cannabis. Once extracted, the solvent is then purged from the final product. Typically, solvent-based concentrates require professional equipment because of the volatility of the solvent.
Solventless Concentrates: Solventless concentrates use alternative methods to both remove the trichomes from the flower and create a final product. Solventless concentrates can be created using heat, pressure, and simple agitation. Unlike solvent concentrates, solventless concentrates can be made at home provided you have the right equipment and in some cases, patience.
What Are the Types of Cannabis Concentrates?
There are a lot of different types of cannabis concentrates on the market, and more are being introduced every day. With that in mind, here's a cannabis concentrates 101 course on some of our most popular products:

Wax Cannabis Concentrates
Wax is a type of butane hash oil (BHO) (sometimes propane hash oil [PHO]) created when butane or propane is forced through the cannabis to extract resin. While the product cools, it's agitated, which is what creates the gooey-thick and grainy texture wax is famous for.
Shatter Cannabis Concentrate
Shatter is also a type of BHO, but that glass-like quality it has which gives it its name is created when the butane is purged from the resin. The fats and plant matter are removed, leaving a hard, clear product that can be broken, or shattered, into shards.
Cannabis Distillate
When shopping for a distillate, you'll likely find THC distillate, CBD distillate, and even some cannabinoid-combo distillates. A distillate is exactly what it sounds like—a concentrate made using a solvent to extract one or a few cannabinoids and nothing else. THC distillates are typically incredibly potent with THC levels in the high-90%. While some companies add terpenes back into the distillate, many distillates do not have much of a flavor or aroma because the terpenes are destroyed in the distillation process.
Live Resin Cannabis Concentrate
While live resin is a type of BHO, it's made from flower that's been flash frozen, a technique said to better preserve terpenes and cannabinoids. Typically, flower is dried, cured, and aged before it hits the shelves. By flash-freezing the flower, extractors avoid the more traditional time consuming method while still creating a great product. Just like other BHOs, the solvent is pushed through the frozen material and a molasses-thick syrup is created that we call live resin.
Rosin Cannabis Concentrate
Rosin, which sounds a lot like resin, has one distinct difference from its cousin—it is created using solventless techniques. Both heat and pressure are applied to the flower, and rosin is created. Some cannabis enthusiasts even make their own rosin at home by wrapping their favorite strain of flower in wax paper and clamping it between the pads of a hot hair straightener. That said, you can also view our menu to find a higher quality of rosin that won't make a mess of your countertop.
Kief
This concentrate is literally the dried trichomes from flower. While you can certainly purchase kief, a lot of cannabis enthusiasts prefer to collect it themselves using a grinder with a kief catcher. Kief can be pressed into hash, or it can be added to a bowl of your favorite flower as a topper for extra potency during your session.
How Are Concentrates Made?
Concentrates can be made using one of two methods—solvent-based extraction and solventless methods. While heat, pressure, and agitation are key to solventless methods, solvent-based extractions typically use either hydrocarbon, ethanol, or supercritical CO2 (an awesome name for what's ultimately just high-pressure carbon dioxide) solvents.
Hydrocarbon extraction: With hydrocarbon extraction, propane or, more commonly, butane are pushed through the cannabis flower to extract terpenes, cannabinoids, and flavonoids. The extract is then purged of the butane using a careful balance of heat to evaporate the solvent without destroying the extracts.


Ethanol extraction or alcohol extraction: We've been using ethanol as a solvent for a long time because it's easier and safer to use than butane. The problem with this extraction technique is that you can also get things like chlorophyll and tannins from the plant that then have to be filtered in order to create a pure concentrate. Once both the ethanol and the extras are removed, you have a ready-to-consume concentrate.


Supercritical CO2 extraction: This extraction technique is getting more and more popular because it uses a natural product that doesn't leave behind anything toxic. The highly pressurized CO2, which is incredibly cold, is pushed into the flower. This chill preserves all the things we love about the flower, including the scents and flavors. Then, the CO2 just evaporates, leaving you with a liquid concentrate that can be added to products like vape cartridges.
How Are Wax Concentrates Made?
Wax concentrates are most commonly made using butane and a closed-loop system. The butane is forced into the plant material in order to extract the cannabinoids, terpenes, and flavonoids we love. Then, the butane has to be purged at the right temperature to preserve those compounds while still getting rid of the toxic-to-humans chemical. Depending on how the extract is treated during the purging process, you can get wax, shatter, budder, and other types of concentrates. To make wax, the extract is agitated while it cools.
How Are Shatter Concentrates Made?
Shatter is made in a very similar fashion to wax. Butane is typically forced into the flower to extract the resin that is then purged of the solvent and other impurities. While wax is agitated to create its thick, pliable consistency, shatter is left alone to cool, creating a clear window of product that can be broken like glass into little pieces of what we call shatter.
How is Cannabis Distillate Made?
Cannabis distillate can be made using either butane or supercritical CO2—though CO2 seems to be growing in popularity among distillers. Once extracted, the concentrate is mixed with ethanol and put in a cold freezer where the impurities separate from the cannabinoids. After about 24 hours, the concentrate is pulled from the cold and the unwanted material and ethanol is removed. From there, the cannabinoids that have been extracted are decarboxylated, the process of heating them to make them convert from THCA into THC or CBDA to CBD. Then, the concentrate is distilled using a process of pressure and heat that isolates the cannabinoid that's wanted for the final product. Some distillers choose to add terpenes back into their final product, but others choose to leave it both odorless and tasteless. You can find both options on the market.
How Are Live Resin Concentrates Made?
When cannabis is harvested, it's typically dried and cured. With live resin, it's flash frozen. Then, it goes through a solvent-based extraction method while it remains frozen, allowing the cannabinoids, terpenes, and flavonoids to all be preserved in the cold. What you're left with is a textured concentrate that can take the form of a wax, budder, or other consistency, though typically they're labeled with "live" at the front, like live wax, so you know it's a type of live resin.
How Are Rosin Concentrates Made?
Ditch the solvents because you don't need them to make rosin. Instead, you're going to want to create a combination of heat and pressure that will cause the resin to drip from the trichomes. The best rosin is professionally made and purchasable at one of our locations, but you can also make rosin at home. Just know that too much pressure or heat will ruin both your cannabinoids and terpenes, so do your research before attempting it with your favorite strain of premium flower.
How is Kief Made?
Kief is made when the cannabis flower is dried and cured. This also dries the trichomes on the bud. Dried trichomes are kief. Technically, you can collect kief with a good quality grinder equipped with a kief catcher and some premium flower. There are also solventless methods that include water extraction and dry sieving, where the trichomes are removed from the plant using water or agitation, respectively.
How to Smoke & Use Cannabis Concentrates
One of the best things about consuming concentrates is that they're versatile. You can typically find a concentrate that suits just about any method of consumption or application, so you can consume the way you're most comfortable. Cannabis enthusiasts often choose to dab or vape their concentrates, but concentrates can also be applied to the skin as a lotion, placed under the tongue as a tincture, or eaten as an edible. You really can customize your concentrate experience just about any way you'd like.
Answering FAQs About Cannabis Concentrates
It doesn't matter if someone is new to cannabis or they've been enjoying marijuana for decades, we get questions from just about everyone about concentrates, including:
How many types of cannabis concentrates are there?
There are many types of cannabis concentrates available. That's the thing about the cannabis industry—we keep inventing new ways to enjoy cannabis. That means while there are plenty of concentrates options available to you now, there will likely be even more in the future.
What's the difference between concentrates and flower?
There are several differences between concentrates and flower. Those differences include:


They're physically different things. Flower is the actual dried flower bud from the marijuana plant. Concentrates do not contain any kind of plant material.


Concentrates tend to be more potent. The amount of THC and other cannabinoids found in flower currently hits its max around 34% THC. Concentrates, like distillates, can be as potent as 99% THC.


They can be enjoyed in different ways. While there are certain ways both cannabis products can be enjoyed (vaping and smoking, especially), concentrates tend to have more versatility. For example, most cannabis connoisseurs prefer to use concentrates in edibles. Concentrates make up things like lotions and tinctures, too. Flower is just a little more limited.


There are many different types of concentrates. The word "concentrates" is an umbrella term used to describe a group of different cannabis products. Flower is just what it sounds like—flower. You can purchase popcorn, shake, or premium flower, but at the end of the day, it's all just one form or another of cannabis flower buds.
It used to be that flower had more flavor, but as we hone our concentrate extraction techniques, and even add terpenes back into concentrates, that difference is getting smaller and smaller—flower and certain concentrate products taste equally delicious.
What's the difference between concentrates and extracts?
This is a somewhat debated topic in the cannabis world. You may hear some cannabis enthusiasts use these words interchangeably, and you may hear some people insist there's a difference due to how they're created. The latter's argument is that concentrates can be made one of two ways—solvent-based extraction and solventless technique. If a concentrate is made using a solvent, it's an extract. If it's made without using a solvent, it's just a concentrate. Basically, all extracts are concentrates but not all concentrates are extracts.
Purchasing Concentrates
Concentrates are popular for a reason—they're easy to consume, they're versatile, and they offer a variety of experiences depending on what you're looking for. If you're ready to give concentrates a try, come talk to our budtenders at your favorite dispensary. They'll answer any questions we somehow missed in this guide and make sure you leave with exactly the concentrates you're looking for.
---
Please consume responsibly. This product may cause impairment and may be habit forming. There may be health risks associated with consumption of this product. State laws impact what dispensaries can and can't sell to recreational customers and medical marijuana patients. Not every type of product, consumption method, dosage form, or potency mentioned on this blog will be permitted in all locations.
Use of Marijuana Concentrate may lead to: Psychotic symptoms and/or Psychotic disorder (delusions, hallucinations, or difficulty distinguishing reality); Mental Health Symptoms/Problems; Cannabis Hyperemesis Syndrome (CHS) (uncontrolled and repetitive vomiting); Cannabis use disorder/dependence, including physical and psychological dependence. Please consume responsibly. This product may cause impairment and may be habit forming. There may be health risks associated with consumption of this product. State laws impact what dispensaries can and can't sell to recreational customers and medical marijuana patients. Not every type of product, consumption method, dosage form, or potency mentioned on this blog will be permitted in all locations.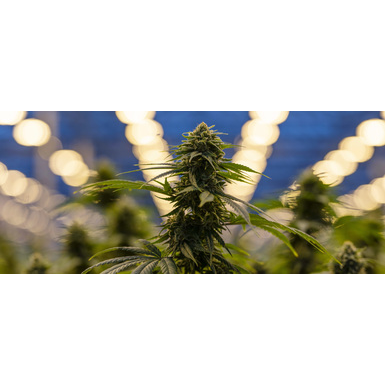 Trichomes make cannabinoids and terpenes; protect the plant from outside influences, like creepy crawlies and windy days; and contain compounds researchers are studying as potential treatments for medical conditions. So whether you're new to cannabis or you've been around the cannablock, you should get to know trichomes.
What are Cannabis Trichomes?
Cannabis trichomes are the tiny glands on marijuana plants responsible for creating cannabinoids and terpenes. They're the little sticky things that coat your fingers when you hold premium bud, and they give marijuana its glossy finish. Because trichomes create terpenes, they provide an array of aromatic experiences, including sweet, fruity, earthy, diesel, dank, sour, and spicy.
How Do Trichomes Work?
Trichomes work by producing terpenes and cannabinoids, including THC and CBD. They start this process during the bloom phase of the marijuana plant. As the cannabis plant creates flowers, trichomes pop up across the entire surface of the plant, transporting little vacuoles and plastics up their hair-like stalk and into the glandular head. Once there, those important resources are metabolized and eventually become cannabinoids and terpenes.
What Do Trichomes Look Like?
The actual appearance of trichomes depends on the type of trichome. Some are like bulbous beets while others are more flower-shaped with a stalk and head. If you're looking at a marijuana plant with your naked eye, the latter is the only one you'll have a chance to see. This is likely why some people describe trichomes as hair-like ("trichome" is actually the Greek word for "hair").
You'll likely be able to see trichomes with your own eyes because they form a glossy, sticky, clear-to-white layer around the cannabis flower buds.
Why are Cannabis Trichomes Important?
Cannabis trichomes serve a variety of important purposes for different people, including:


Cultivators: The appearance of trichomes indicates the cannabis plant is starting to bloom. When those trichomes turn from clear to a cloudy white or even amber, it's time to harvest.


Manufacturers: Trichomes are nature-grown gold. Everything customers love about marijuana (the cannabinoids and terpenes) is found in the trichomes, making the harvesting of those crystal glands an important process. From them, we create anything from hash to concentrates like budder and shatter.


Cannabis Consumers: Everyone has a different reason for consuming cannabis. Some love the flavors and aromas of the terpenes. Others want to bask in the entourage effect from the combination of terpenes and cannabinoids. And then there are some people that just want a certain cannabinoid, like THC or CBD. All of those reasons require the production of trichomes.
Of course, trichomes are also crucial to the marijuana plant itself. They serve as protection against things like bugs, critters, and environmental factors like wind and sun.
What are the Different Types of Cannabis Trichomes?
Not all trichomes are created equal. In fact, there are three trichome types that show up on the marijuana plant, all varying in size and cannabinoid production. They are:
Bulbous Trichomes:
Stop looking because you're never going to see these tiny trichomes with the naked eye. They're as little as 10 micrometers (one micrometer is one millionth of a meter), and they cover the entire surface of the cannabis plant.
Capitate-Sessile Trichomes:
If this was Goldilocks, the capitate-sessile trichomes would be "just right." That's because they're a medium sized trichome with a tiny stalk and chunky head, like a dandelion when it's time to make a wish. This type of trichome is even more abundant than its smaller counterpart.
Capitate-Stalked Trichomes:
If you can see trichomes on your flower, you're likely looking at this one. Ten times the size of bulbous trichomes (100 micrometers), the capitate-stalked trichomes are the biggest type of trichome. They have a long stalk and big, globe-like heads, and they serve as ground zero for the creation of cannabinoids and terpenes.
Understanding Cannabis Trichome Production & the Trichome Development Timeline
Cannabis enthusiasts love trichomes for the cannabinoids and terpenes they contain, but farmers love trichomes because they are key to the development and harvesting timeline of marijuana. The lifecycle of the trichome starts when a marijuana plant begins to bloom; trichomes form across the entire plant and initiate the process of creating what will one day become cannabinoids.
The second growers see those trichomes glisten, they start to really monitor their cannabis crop. They're looking for the trichomes to turn from translucent and clear in color to just a little cloudy and amber-toned. This is the point when trichomes are at their ripest—an indicator that it's time to harvest the plant. If a grower waits too long, the trichomes will turn completely amber and, eventually, black.
While not all strains follow the same growing pattern or trichome stages, their trichomes are always crucial to the harvesting process.
Answering Cannabis Trichomes FAQs
If the mitochondria is the powerhouse of the cell, the trichomes are the powerhouse of the cannabis plant. Here are just some of the questions we get and the answers our expert budtenders give about these unique little glands:
Are trichomes cannabinoids?
No, trichomes are not cannabinoids, but trichomes do contain cannabinoids among other compounds.
What is the function of the trichome?
While we love them because they contain cannabinoids, terpenes, and flavonoids, trichomes are actually a crucial part of the marijuana plant's defense against things like bugs, animals, and even the sun's UV rays. Some of the very things we breed marijuana plants for, like taste and aroma, keep animals and bugs from eating them. Plus, because trichomes grow like a sticky, crystalline shield, they can also prevent sun damage, wind damage, and in some cases, fungal growth.
What's the difference between trichomes and kief?
Nothing. Kief is just dried trichomes that have broken off from the marijuana flower.
Do grinders crush trichomes?
If you're using just a standard grinder, yeah, you're going to destroy your trichomes. If you want to preserve those little bundles of cannabinoids and terpenes, you should get yourself a grinder with a kief catcher. That way, your trichomes won't go to waste.
When do trichomes appear?
Trichomes appear on the marijuana plant during the flowering stage.
Experiencing Cannabis Trichomes
The best part about trichomes is that you literally can't walk into a dispensary and not see them. They're decorating the top-shelf flower, packaged in with the concentrates, or even enhancing a pre-roll as kief. If you'd like to get to know trichomes on a personal level, view our menu and then head over to one of our dispensaries. We're happy to introduce you to trichomes at any of our locations.
---
Please consume responsibly. This product may cause impairment and may be habit forming. There may be health risks associated with consumption of this product. State laws impact what dispensaries can and can't sell to recreational customers and medical marijuana patients. Not every type of product, consumption method, dosage form, or potency mentioned on this blog will be permitted in all locations.