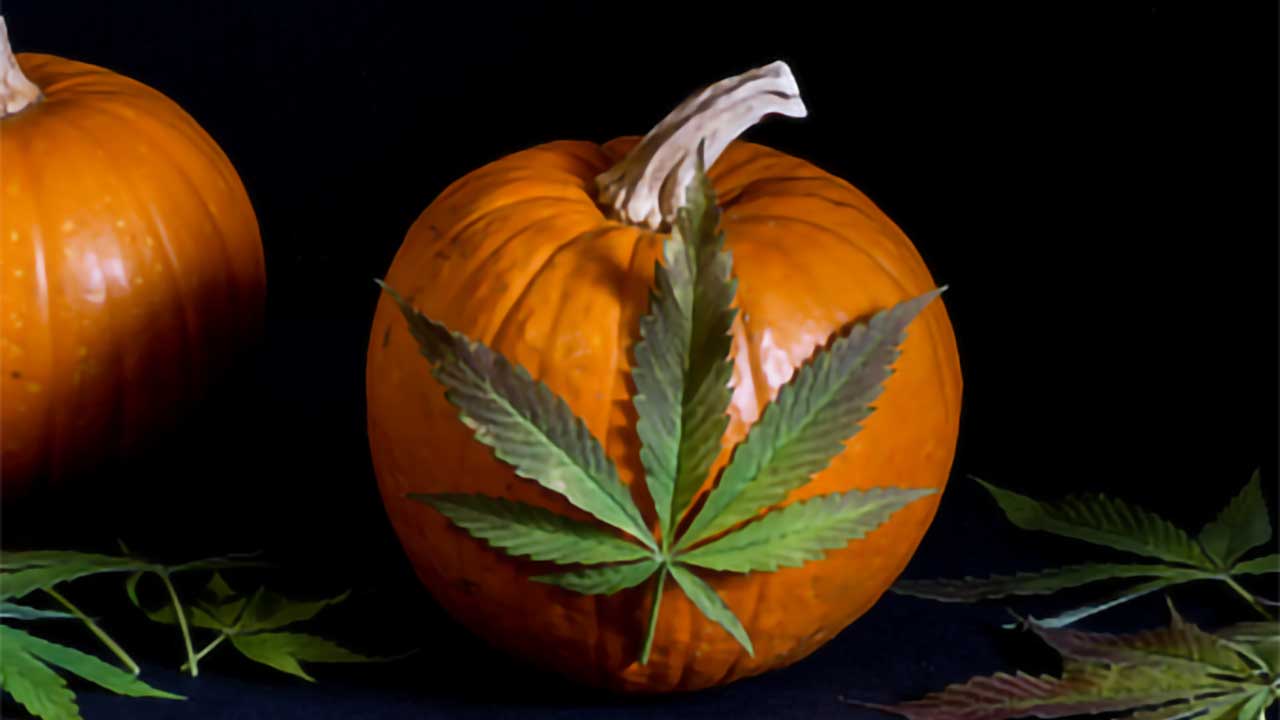 10 Spooky Strains for an Infused Halloween
What's not to love about Halloween? It means cooler weather, longer nights, creepy movies, and haunted decorations. While we could go on about our favorite ghouls and goblins during this scary season, we're going to celebrate in the only way we know how—sharing our top 10 chilling cannabis strains. Now, you can make sure you incorporate marijuana into all your creepy festivities.
Here are 10 of the best Halloween marijuana strains for the spooky season:
Ghost OG
Indica-Dominant Hybrid
Ghost OG is the child strain of Afghani indica and OG Kush and that should tell you everything you need to know, but there is one interesting detail that is worth noting about this strain. While it has ghost in its name, this strain is actually one of the most vibrant-looking strains on this list, with a rainbow of colors on its bud that range from yellow to purple. It's also absolutely coated in trichomes, which should be a pretty good indication of what you're going to get with Ghost OG. This indica-dominant strain, with sweet, earthy citrus flavors and aromas, packs a powerful THC punch with a range that starts at 18% and jumps to 24%. Keep your eye on this bud because it will creep up on you otherwise if you're not careful.



Monster Cookies
Indica-Dominant Hybrid
Brought to us by a cross between Girl Scout Cookies and Granddaddy Purple, Monster Cookies is an indica-dominant hybrid strain that is known for its high THC levels—a respectably elevated 21%. In addition to its potency, evidenced by its thick, chunky layer of trichomes, it packs a sweet flavor and aroma, like a bowl of grapes and other berries with just slight earthy, diesel fuel undertones. While Monster Cookies is certainly a popular strain on the recreational market, it's also popular among medical marijuana patients.



Frankenstein
Indica-Dominant Hybrid
This strain might be more aptly named Frankenstein's monster, because we aren't really sure what strains came together to make it. There are some people who think it's Maui Waui and an indica, while others are pretty sure that it's got some OG Kush, along with Chemdawg and Hindu Kush, heritage to it. What we are sure of is that it's a potent indica-dominant hybrid that hits hard with 23% THC. While its aroma is like a minty pine forest, its flavor is both spicy and sweet, with just a hint of citrus on the back end. While we aren't sure where Frankenstein came from, we are sure that it made other great strains including Copper Kush and Dankenstein.



Ghost Train Haze
Sativa-Dominant Hybrid
With a name like Ghost Train Haze, you might think you're in for a ride, but you should be prepared to go off the rails. This sativa-dominant strain has an absolutely whopping 27% THC, meaning this is not for first-time cannabis enthusiasts. A cross with another strain on this list, Ghost OG, and Neville's Wreck, Ghost Train Haze is everything you'd expect from an OG Kush descendent. It's potent and flavorful (sweet citrus), and it has a pungent aroma like a sour bowl of lemons and limes—making it a hard-hitting sensory experience all around.



Hell Cat
Hybrid
If you thought Ghost Train Haze had a high THC level, move over for Hell Cat. While it's a balanced hybrid with a fifty-fifty split of indica and sativa, there's nothing balanced about its potency. Hellcat has a THC range between 27-30%, making it one of the most potent strains you can find on the market today. That said, it's important to remember that this sweet, lemony strain might affect you differently, depending on your body and your endocannabinoid system.



White Witch
Hybrid
Another balanced hybrid with 50% indica and 50% sativa, White Witch brings much more manageable levels of THC to the list, with anywhere between 19-21% THC. While still potent, it's certainly not going to make you hit the floor like Hell Cat will. In terms of heritage, we know that White Witch comes from White Widow, but we aren't sure what its parent strain was crossed with, making it as mysterious as its mythical namesake. This hybrid leans more spicy than sweet, with a sprinkling of a dank, pungent scent and flavor that will stick with you long after you finish it.



Cereal Killer
Indica-Dominant Hybrid
The product of a Chocolate Chunk, Deep Chunk, and Bubba Kush melting pot, Cereal Killer is one of the friendliest strains on this spooky list with its moderate-to-high THC range of 15-21%. An indica-dominant hybrid - 70% indica and 30% sativa - Cereal Killer is a great strain to enjoy anytime. Its berry-sweet flavors and aromas are relaxing and enjoyable, making it a strain to indulge in for recreational consumers and medical marijuana patients.



Pretty Wicked
Sativa-Dominant Hybrid
We're back up in the stratosphere of THC levels with Pretty Wicked, thanks to its 25% THC potency. A cross between Chem D and Purple Mayhem, there's no question where it gets its potent genetics and its ability to stop you in your tracks. That said, it is a sativa-dominant hybrid, so factor that in your expectations when you decide when you consume this strain and what you're looking to accomplish after you enjoy it. While it does have some chemical undertones to its flavor and aroma profiles, Pretty Wicked does tend to also be fruity and sweet, with just a little hint of spiciness to keep things interesting.



Jack Skellington
Sativa-Dominant Hybrid
This is Halloween, and there's no way we couldn't put Jack Skellington on our spooky strain list. A cross between Killer Queen and Jack the Ripper (also great Halloween strains), this sativa-dominant strain has certainly earned its place here. It has a moderately high THC level at 18%, making it great for both new cannabis enthusiasts and seasoned cannabis connoisseurs. It's also great tasting and smelling with its sweet and tangy fruity notes with just a hint of diesel fuel that reminds you you are smoking a cannabis bud.



Voodoo
Sativa
Voodoo keeps it 100, meaning it's a 100% sativa strain and a phenotype of the popular Thai Landrace. While Voodoo is covered in beautiful trichomes and sweet resin, it also has the lowest THC levels of any strain on our list, ranging from 8-12%, so it is friendly to all levels of cannabis consumers. Curious what it tastes like? This strain is a flavor wonderland that ranges from citrus berry to nutty vanilla with just a hint of pepper notes to it. Its aroma is just a little less complicated with sugary, nutty notes similar to butter pecan ice cream.



Find the Perfect Halloween Strain
While we love all ten strains on this list, the perfect Halloween marijuana strain is the one you enjoy most. Get inspired to try a new strain and maybe even find a new favorite. If you don't see one of these strains at your dispensary, talk to your budtender for other spooky Halloween strain options.
---
Please consume responsibly. This product may cause impairment and may be habit forming. There may be health risks associated with consumption of this product. State laws impact what dispensaries can and can't sell to recreational customers and medical marijuana patients. Not every type of product, consumption method, dosage form, or potency mentioned on this blog will be permitted in all locations.
Blog categories
Subscribe to receive new articles in your inbox