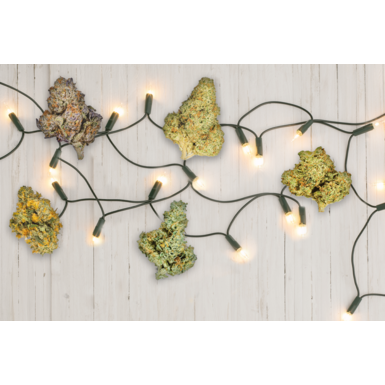 Best Marijuana Strains for the Holidays
Tis the season of twinkling lights, decorated cookies, meals with the family, and for us, enjoying our favorite strains of holiday-friendly cannabis. There are some strains that just embody the warm smells and inviting flavors of the holidays, and they're perfect to consume whether you're prepping for dinner, wrapping presents, or watching your favorite holiday classic. If you're ready to give yourself the gift of great holiday cannabis, we've got a list of our top ten strains, plus two more we just couldn't leave off the list, that we think you'll love.
Top 10 Holiday Cannabis Strains + 2 Bonus Strains!
There's no place like home for the holidays—especially after you find a dispensary and pick up a few of our favorite season-friendly strains on this list. These strains are the perfect indulgence for cannabis enthusiasts looking to embrace seasonal flavors and aromas in their cannabis:
Gingerbread Cookies aka Gingerbread, Ginger Cookies, or Ginger Cookies CBD
Thanks to a cross with Girl Scout Cookies, Gingerbread Cookies was born. It's a deliciously sweet, nutty, spicy strain that gets its name and its place on our holiday strain list because of its flavor. While it's perfectly balanced between indica and sativa, it's also perfectly balanced between THC and CBD—approximately 16% for both.
Jack Herer aka The Jack, JH, Premium Jack or Platinum Jack
If you've been a cannabis enthusiast for a little while, you likely already know about Jack Herer—it's one of the most famous sativa-dominant hybrids on the market. While Jack Herer doesn't have a holiday name, it does have hints of holiday aromas with its earthy, pine forest scent. The Jack contains anywhere from moderate to high levels of THC (15-24%) and it also contains a small percentage of CBN (1%).
Jack Frost
If you're looking for a strain that will nip at your nose this holiday season, look no further. Jack Frost is a balanced hybrid with a skunky aroma. Its woodsy, earthy flavors, though, will put you right back into the vibe of a cabin on a cold winter's night. While Jack Frost is enjoyed by both recreational marijuana consumers and medical marijuana patients, it does have high THC levels (23%), so if you're new to the strain, go slow.
White Widow
Staying in the same aroma forest as Jack Frost, White Widow (which not coincidentally is one of Jack Frost's parent strains) mixes sweet woody scents and flavors with earthy, spicy, pine aromas, to create a cacophony of traditional holiday aromas. White Widow, which leans toward sativa, has been popular since the 90s, so if you're looking for a strain this holiday season, there's a good chance you'll find this one at your local dispensary.
Vanilla Kush
FromPut down the Yankee Candle and opt for Vanilla Kush instead. Its sweet vanilla cream scent carries just a hint of lavender with it too, making it a unique and welcome strain for any time of year but especially the holidays. This hybrid strain leans predominantly indica, and it contains up to 20% THC.
Sugar Cookie
We love a good balanced hybrid, and Sugar Cookie is no exception. A cross between Sensi Star, Crystal Gale and Blue Hawaiian, Sugar Cookie manages to possess some of our favorite characteristics between all three strains. It's sweet vanilla flavor compliments its coffee aftertaste, and it contains up to 22% THC, so it makes a great post-holiday dinner treat.
Permafrost
For all you sweet tooths out there, you'll especially love the dessert-like aroma of Gelato Cake, a combination of Gelato #4 and Wedding Cake. As for the effects of this Indica-leaning strain, you can expect physical relaxation to come on nWe love a good balanced hybrid, and Sugar Cookie is no exception. A cross between Sensi Star, Crystal Gale and Blue Hawaiian, Sugar Cookie manages to possess some of our favorite characteristics between all three strains. It's sweet This sativa-dominant strain is for our cannabis enthusiasts that love the cold. Permafrost isn't just a great bud to consume, it's a gorgeous flower just to look at—it gets its name from the frosty layer of trichomes that covers its buds. Permafrost's flavors and aromas both are woodsy and earthy, though some people report it has a hint of skunk aftertaste too.
Candy Cane
Meet Candy Cane, a sativa-dominant strain that owes its creation to the cross of AK-47, Mango, and White Widow (that makes two strains from White Widow on our holiday list). This strain is loved by both beginners and cannabis connoisseurs for its moderate THC levels (15-20%) and its sweet menthol flavors.
Christmas Tree
There's no question why this indica-dominant strain made it on our holiday must-haves list. Not only does the Christmas Tree strain smell like sweet pine and herbs, it looks like a marijuana Christmas tree too with its bright green and downright fluffy buds. Before you give yourself the gift of Christmas Tree this year, make sure you check your tolerance levels—this strain is 25% THC. For most cannabis enthusiasts, that's pretty high, so start slow.
Kush Mints
We love certain marijuana and food pairings, and Kush Mints feels like it's both those things in one with its peppermint candies and sweet cookies flavor. This balanced hybrid packs both flavors into one flower and adds just a mild undertone of coffee too. Kush Mint is a great, albeit strong at 24% THC, strain for a low-key holiday with the family.
Sugar Plum or Sugar Plum Fairy
This magical little sativa-dominant strain isn't just the perfect holiday strain, it's also an award winner for best sativa at the 2003 Oregon Medical Cannabis Cup. Sugar Plum's flavor and aroma lives up to its name—sweet and sugary with just a hint of fruit to it. Just be warned: it packs higher-than-average THC levels (25%) so enjoy this strain in moderation.
3Kings or Three Kings
Technically, 3 Kings isn't named after any wise men of certain holiday tradition. Rather, its name is an homage to its three parent strains: Headband, Sour Diesel, and OG Kush. These three powerhouse strains created this sativa-dominant hybrid that packs a pine scented and flavored punch with just a hint of diesel on the back end. What's great about Three Kings is that it has only moderate THC levels (14%) and a little bit of both CBD (1%) and CBN (1%), making it a great holiday strain for beginners and connoisseurs alike.
Find Holiday Cannabis Strains
While these strains make a great gift for you (and you deserve to treat yourself), we also have a cannabis gift guide available with the perfect gifts to give your marijuana-loving friends, too. Be sure to check it out so you can pick something up for yourself and a loved one on your next visit to one of our dispensaries. Happy holidays!
---
Please consume responsibly. This product may cause impairment and may be habit forming. There may be health risks associated with consumption of this product. State laws impact what dispensaries can and can't sell to recreational customers and medical marijuana patients. Not every type of product, consumption method, dosage form, or potency mentioned on this blog will be permitted in all locations.
Blog categories
Subscribe to receive new articles in your inbox